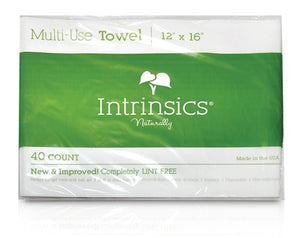 Multi-Use Towel - Case 10 pack/box 40 count/pack 
12" x 16", Manicure Towel
The beauty of our Multi-Use Towel is right there in the name: it can be used in a variety of different ways. These towels are the absolute best for manicure services; They are the perfect stain barrier, 100% lint-free, repel liquids and perfect for gel nails.
Created from non-woven fibers, they can be utilized in professional spas and salons as table towels, face cradle covers, hair blotters, pedicure towels—and the list goes on and on. The bottom line? These are your go-to towels for everyday use.
These multi-use towels are a great addition to your nail supplies, skin care products and salon supplies.
Benefits:
Lint-free disposable towel is non-absorbent and repels liquids
Stain Barrier
Sanitary
Disposable
Use as a table towel, face cradle cover, hair blotter, pillow cover, pedicure towel or tray cover
Perfect for gel nails, nail art and everyday use and protection
Made in U.S.A.