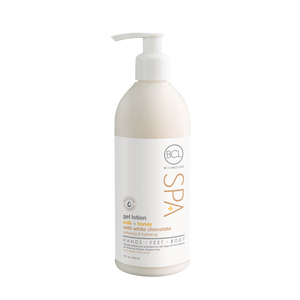 BCL SPA Gel Lotion Milk + Honey with White Chocolate 12oz Lotion SPA54503
Perfect for: Softening & Hydrating – Softens the skin with gentle exfoliation & hydrates the skin to restoring moisture balance with Milk + Honey & White Chocolate.
Our gel lotion is the perfect finishing lotion for soothing, cooling, and silkening the skin for the perfect manicure, pedicure, or body massage finish. The skin is deeply hydrated without the slightest hint of slippery skin after the treatment is completed.