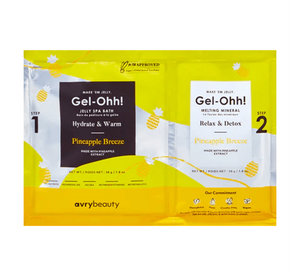 GEL-OHH! Jelly Spa Pedi Pineapple Breeze 30/Box *LIMITED EDITION*
The Ultimate Spa Pedicure experience for relaxation using heat therapy which soothes aching joints and muscles. Avry Beauty Gel-Ohh is 100% FREE of harmful chemicals or preservatives and is fully bio-degradable.
Instructions:
Tear open packet 1 and pour into spa foot bath water
Watch as the water turns into jelly!
When ready to drain, open packet 2 and pour onto jelly.
Jelly will start to dissolve. Once fully dissolved you may drain. Looking for a way to pamper yourself? Try our GEL-OHH! Jelly Spa Pedi Pineapple Breeze! This 30/Box limited edition contains the perfect mix of jelly and pineapple to leave your feet feeling refreshed and smelling amazing!