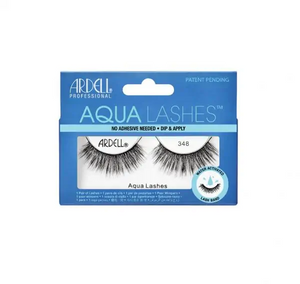 Ardell Aqua Lashes - Strip Lashes 348 (1 pair)  #56869
Water eyelashes
 074764568694
Application:
1. Check fit: Align band with natural lash line to check for fit. Remove lash tabs by trimming each end. Trim any excess lash for fit if necessary.
2. Activate adhesive: Immerse lash band in warm water for 10-15 seconds. Ensure lash band is fully saturated before applying to lash line.
3. Apply lashes: Secure lash band by pressing onto lash line.
Removal: To remove, saturate a cotton swab with water and apply along the lash band. Gently peel away lash strip, starting from the outer corner and slowly moving toward the inner corner."