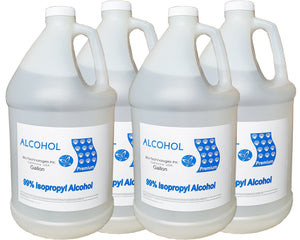 BeautyZone Isopropyl Alcohol 99% (Case 4 Gallon). Nail Surface Cleanse Especially formulated to work with soak off Gel Top . Assures a high shine finish without any tacky residue or without drying to the skin.
For safety reasons, this item can not be shipped
Pick up in store Only!!
 FIRST AID MEASURES General Advice Take proper precautions to ensure your own health and safety before attempting rescue and providing first aid. Consult a physician. Show this safety data sheet to the doctor in attendance. Move out of dangerous area. Skin Immediately flush affected area with plenty of water while removing contaminated clothing. Wash contaminated clothing before reuse. Contact a doctor. If irritation persists, get medical attention. Inhalation Remove person to fresh air. If signs/symptoms continue, get medical attention. Give oxygen or artificial respiration as needed. Eyes Thoroughly flush the eyes with large amounts of clean low-pressure water for at least 15 minutes, occasionally lifting the upper and lower eyelids. Seek medical attention.
Isopropyl Alcohol Common name / Synonym: Isopropanol, Isopropyl Alcohol, 2-Propanol, sec-propyl alcohol, dimethylcarbinol, Rubbing alcohol, IPA 99%