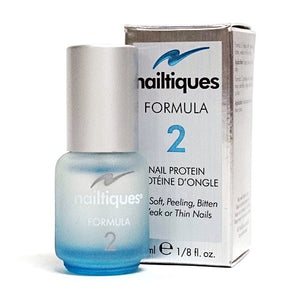 Nailtiques Formula 2 Nail Protein 4ml (small Size)
Nailtiques Nail Protein Formula 2 - treatment for soft, peeling, bitten, weak or
Nailtiques Formula 2 Nail Protein
Nailtiques Formula 2 Nail Protein, .13 fl oz
Nailtiques Protein Formula 2 1/8oz (3.7ml)
Nailtiques Nail Protein

Formula 2 - For Soft, Peeling, Bitten, Weak or Thin Nails

Nailtiques Nail Protein was created to address different nail conditions. The formulas offer special combinations of ingredients that cater to those looking for answers to their nail care needs.

Use Formula 2 on nails that are soft, peeling, split or just will not grow. Once the desired results are achieved, graduate to Formula 1.
Application:
Apply once daily. As nails improve, decrease application. Formula 2 may be worn alone or with color polish.

The nail protein is designed for one coat to be applied over the previous. Remove as needed (usually weekly) with a non-acetone remover and start again.

It is important to wash hands/nails with soap and water to remove any residue. Be sure the nail surface is completely dry before the base coat is applied.

If wearing color polish, apply the nail protein as a base coat followed by color. A second coat can then be applied the following day.