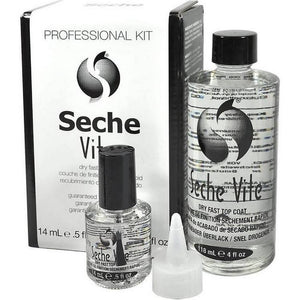 Seche Vite Dry Fast Top Coat Professional Kit, 4 oz Refill
Seche Vite Professional Kit 4 oz 
809217945018

Seche Vite Dry Fast Top Coat is the champion non-yellowing fast drying top coat that has had the industry abuzz for years. Seche Vite's patented formula penetrates through the nail lacquer to the base coat forming a single solid coating over the nail plate which is guaranteed not to yellow. It goes on immediately after the nail lacquer, no waiting.

Apply thickly, get a nice bead on the end of the brush, then set softly down on the first nail painted.

Seche Vite leaves nails silky, stronger, more durable and resistant to chipping and peeling.

Seche Vite Professional Kit includes:
Seche Vite 0.5oz
Seche Vite 4 oz Refill
Seche Vite 1 Funnel.