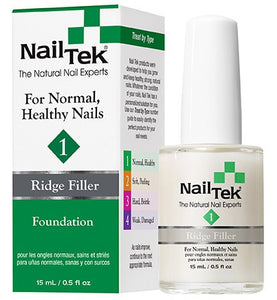 Nail Tek Foundation 1 For Strong Healthy Nails 0.5 Oz #55813
FOUNDATION Ridge-Filling Strengthener and Base Coat



Nail Tek FOUNDATION fills unsightly ridges and nail damage while strengthening the natural nail. This unique base coat is a special blend of strengtheners, conditioners, micro-fibers, and natural fillers, creating a superior surface that greatly increases polish adherence for a long-lasting manicure. Smoothes uneven nail surfaces and masks nail imperfections for healthy, beautiful nails.



WARNING: This product can expose you to chemicals including formaldehyde, which is known to the State of California to cause cancer. For more information go to www.P65Warnings.ca.gov.