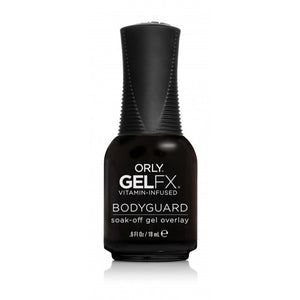 Orly Gel Fx Gelfx Gel Polish Bodyguard Vitamin Infused .5oz/15mlNew!
079245340004
GELFX Bodyguard Soak-Off Gel Overlay
Guard  Protect • Strengthen

GELFX BODYGUARD is an all-in-one soak-off gel overlay engineered to reinforce the structure of the natural nail and protect them while they grow.
an innovative all-in-one soack off gel overlay that strengthens and protects nails while also providing a smooth surface for a flawless manicure.
Unlike other strengthening and building gels, Bodyguard comes in a polish bottle instead of a pod for effortless and precise application, as well as less waste. Bodyguard also comes with the Guardian Brush, which is specifically created to deliver the perfect amount of product right where you need it.