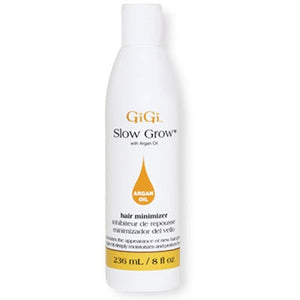 GiGi Slow Grow with Argan Oil 8 oz #0740
After shower, towel dry. Use daily to condition skin and minimize the appearance of new hair growth.
GiGi Slow Grow with Argan Oil is a fast absorbing, nourishing lotion that contains Papain & Natural enzymes to slow down the formation of new hair (known as keratinization). This anti-keratinization process will make the hair finer and easier to remove when waxing. Infused with exotic Argan Oil to deeply moisturize and protect the skin. Makes a perfect add-on treatment and retail product for salons and spas.