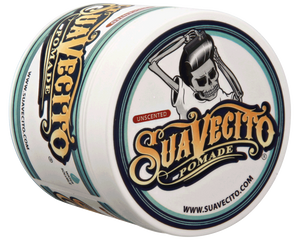 SUAVECITO Original Hold Pomade Unscented 4 oz P120
Make life simple with ease from your buddies here at Suavecito Pomade. We are here to help. Our goals here are to make you feel, look and smell great. You might be the connoisseur of fine colognes or a gentleman of the aftershave and don't want a pomade (no matter how well it works) to clash with your fragrance. We get you. We understand you. We are here you. 
Enter, our Original Unscented Pomade! We took our original formulas and took the scent right out. That's right, it's completely scentless when worn! It still feels the same, applies the same, holds the same and washes out with just water. When this pomade is applied to your hair and sets there is no scent. Seriously, ninjas wear this stuff. 
Directions: If you are familiar with our regular pomades nothing has changed in application. For new supporters - start with a small dab in the palm of your hands. Spread between hands and apply to hair evenly from roots to tips. Style with comb or brush. Apply more as needed. Washes out with just water.
No smell when applied to your hair! 
Same hold and styling you are used to
Washes out quickly with just water
Easy to use and quick to apply 
Made in the United States